Life-changing opportunities
Success takes on a new meaning.
Success at The Mission happens in so many ways.
Sometimes, success happens after many failed attempts. Occasionally, it occurs with a step backwards, followed by a few wavering steps forward on a long journey. Every so often, it begins when a major realization allows us to see ourselves in a new light.
Here are some of those success stories: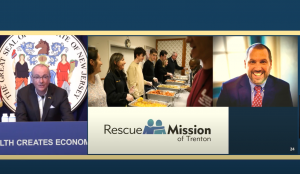 We are honored that Governor Murphy spoke about The Mission's "tremendous work, which in addition to feeding those in the community who need a healthy meal, also offers healthcare, housing assistance, addiction treatment and job training." "Last year," he said, "the Rescue Mission – under the leadership of that guy, a very good friend and outstanding CEO, Barrett Young –
Read More »
Your support can help create more success stories.