Reaching Out, Offering Hope and Help to People Living on The Streets
Enhancing the services we provide on our campus in the heart of Trenton, The Mission is also reaching out to people living on the streets – meeting them where they are – with two innovative ways to help:
Mission Outreach 
Six days a week, driving to where people struggling with addiction are known to congregate, our Certified Peer Recovery Specialists (professionals who have lived experience) offer everyone they meet a cup of coffee, something to eat, a caring conversation – and, if the individual is ready, medication to help with recovery, access to healthcare, and shelter from their personal storms.
Open Access
The Mobile Recovery Unit, in partnership with Iron Recovery and Wellness Center's Mobile Recovery Unit, is a confidential and empathetic environment staffed with medical professionals to help individuals begin the process of obtaining the necessary medication for their addiction recovery journey.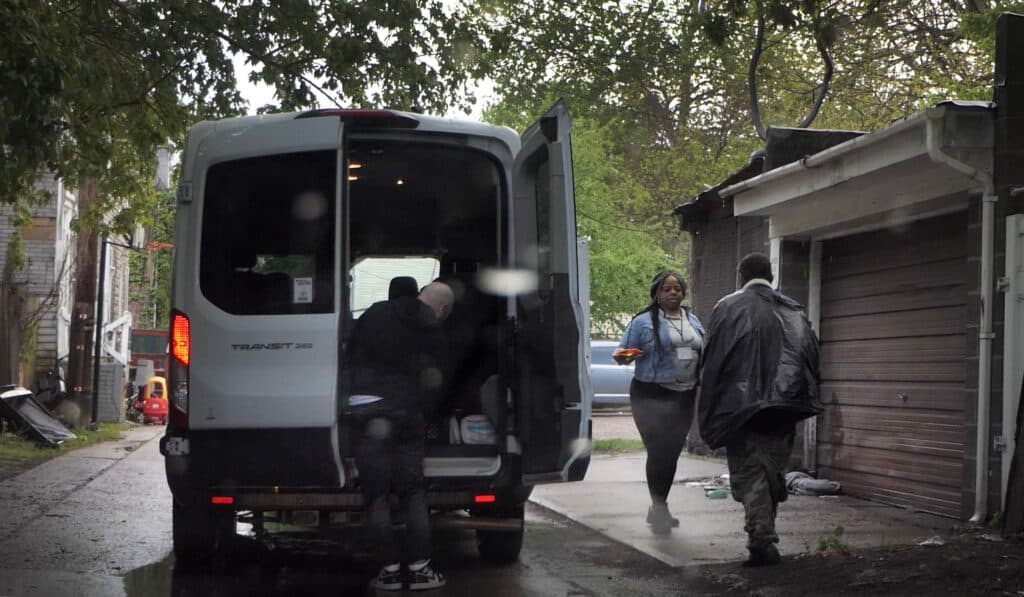 Chalia approaches someone on a rainy street and talks in a kind voice, calling him by name.