Our Thrift Store is a vibrant part of our community. Each and every one of our items have been donated to The Mission, so all of the money we raise goes directly to fund our programs – where we feed those who are hungry, house those who are homeless, and provide opportunities for all.
Part of the beauty of the store is that it works on so many levels. For those who donate, it provides a wonderful sense of giving. For those who shop here, it provides a very affordable way to find some really great values. And for the residents of The Mission, it provides diversified job training.
Ada, who shops here frequently, said, "I love this place. I used to live right down the street, so I've been shopping here forever. Before I retired from my State job, I'd get all kind of beautiful things here. I was the best dressed woman in my department!"
The Thrift Store is open Monday through Friday from 9:00 am until 2:00 pm. Masks are required by everyone. Children are welcome.
Interested in donating? We gratefully accept donations of clothing. We also make it convenient to donate clothing at our drop-off-boxes.
Another way you can support The Mission is by hosting a clothing drive through your company, business, school, faith-based organization, or civic group. For more information, call Dave Mazenko – (609) 695-1436 ext. 306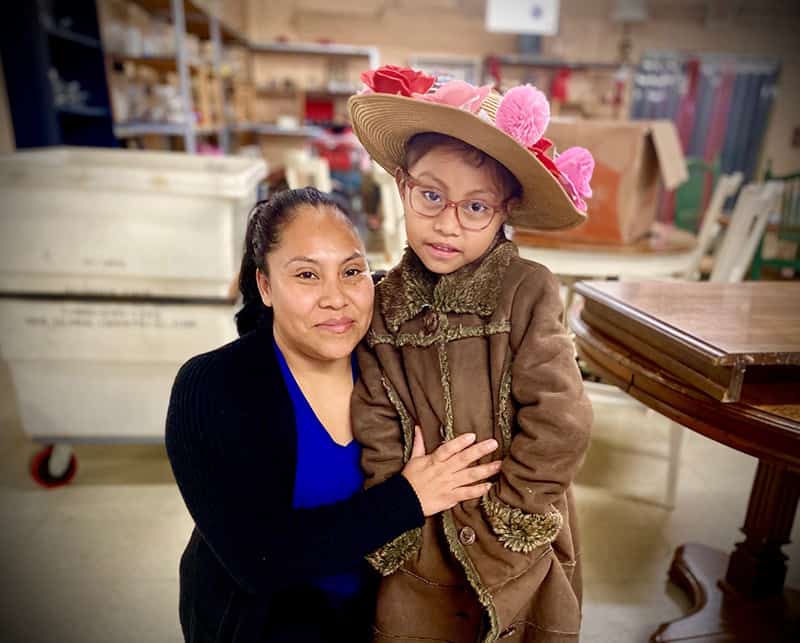 Hasly found a new hat last year at The Mission's Thrift Store while shopping with her mother Anjelica