Helping to put an end to homelessness.
The Mission is here to help end homelessness – one person at a time.
We start by providing a meal for someone who is hungry and has nowhere else to turn.
From there, we can help someone who is homeless to obtain permanent supportive housing, while receiving health care, behavioral health counseling, vocational development, and seeing new possibilities in themselves.
We do this by connecting. Connecting, compassionately, with those who knock on our door. And connecting, deeply, with our community in six distinct, yet unified, and vital ways: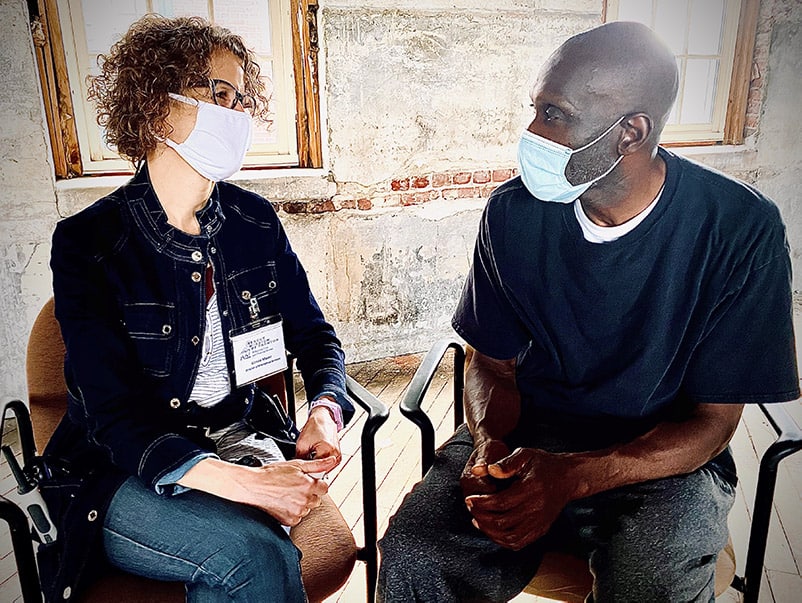 Aimée Maier, Director of Emergency Services, having a final counseling session with Johnnie Larkins, as he gets ready to leave The Shelter for an apartment, where he will be living on his own for the first time in his life.
For more than a century, whenever someone has knocked on our shelter's door, all we ask were just two questions: "What's your name?" and "Are you hungry?"
Then, over a shared meal, our dedicated and talented staff help each homeless individual start to map out a path for "What's next?"
Last year, 1,018 individuals knocked on our Shelter's door, who stayed with us for over 38,005 nights, and were served over 71,992 meals. 
Each individual is offered a full range of professional case management services, without consideration of ability to pay, including healthcare, behavioral health counseling, addiction treatment, financial assistance – and last year we were able to help 153 previously homeless individuals obtain housing. 
We are keenly aware that behind each of those stark numbers is a very personal story.
The Mission's Behavioral Health Center is a state licensed addictions treatment facility, providing long-term, halfway house and ambulatory services.
Our comprehensive approach helps individuals recognize and overcome challenges they have been facing – so they can see new possibilities for themselves.
Licensed and credentialed counselors provide a full array of services, including individual and group counseling, medical evaluation and referral, as well as educational and vocational opportunities.
Our long-term program accepts individuals from Drug Court, the Parole Board, as well as "walk-in" clients from The Shelter and other agencies.
We also have a Halfway House for individuals seeking treatment, while focusing on gaining life skills and employment.
In addition, we offer Outpatient and Intensive Outpatient counseling, providing individuals with ongoing treatment, during convenient evening hours.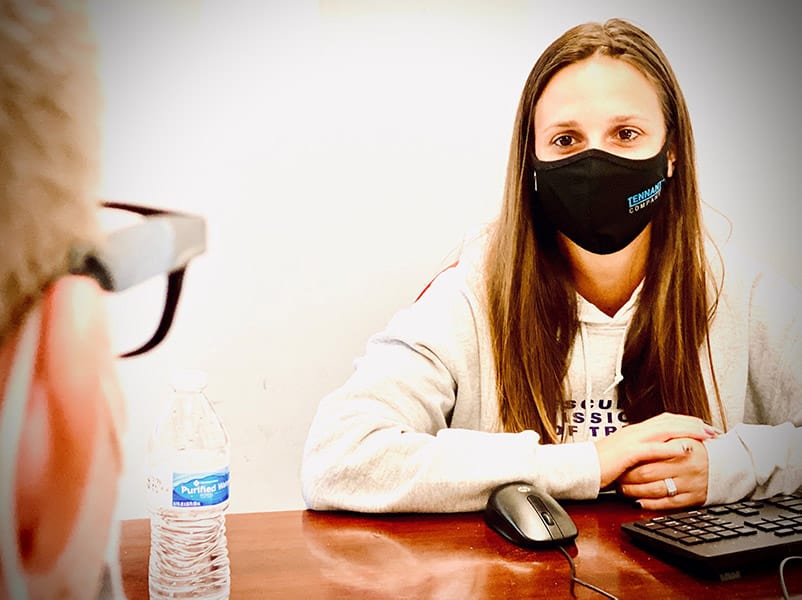 Amanda Moschella, Director of Substance Abuse Counseling Services, working with a client on being able to recognize his emotional triggers, overcome self-limiting beliefs, and see new possibilities for himself.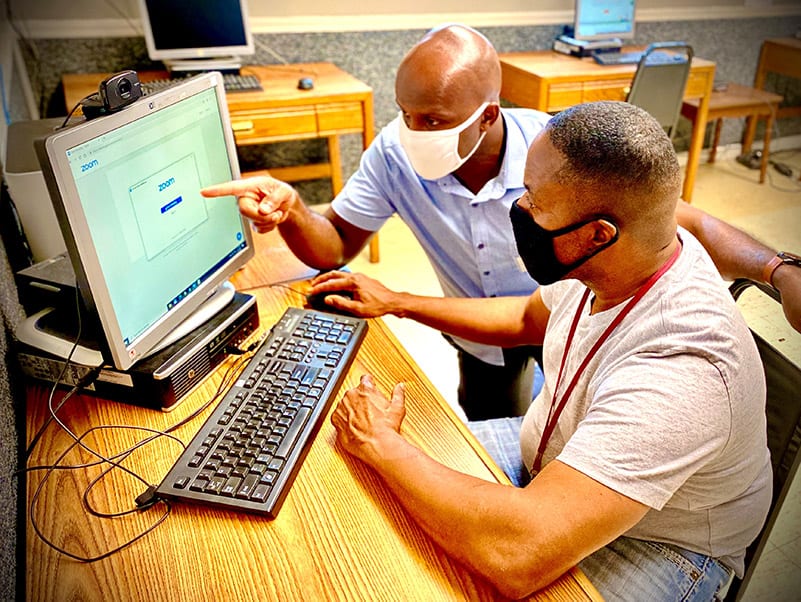 Darrell Francis, Vocational Development Coach, working with Aaron Prunty, on applying for a position after creating his resume, practicing interviewing, and being coached on optimism and resilience.
To help individuals discover a career path that is fulfilling and will sustain them after leaving The Mission, our Vocational Development Team helps with all aspects of job readiness, including: obtaining proper identification, fostering a growth mindset, identifying strengths and areas for development, preparing a resume, practicing interview skills, conducting job searches, bouncing back from rejection, maintaining a solid work ethic, managing finances, and developing a successful employment plan.
In addition to working with our current clients, several of our former clients recently reached out to us after losing their jobs when the companies they were working for downsized because of the pandemic. Within a day, based on their training and our recommendation, we were able to help several clients obtain employment at BJ's Warehouse, where the director of human resources said, "We wish we could clone them."
We also developed an innovative, a one-of-a-kind, partnership with the University of Pennsylvania – which offers an intensive training program led by Penn faculty and students to a small group of our clients, with the goal of helping them start and succeed in running their own businesses. One of the graduates of the program, who slept under a bridge before coming to The Mission, now owns his own auto repair businesses and just hired his first employee, who is also in recovery.
Our Vocational Development Program succeeds by combining skills training with counseling that helps individuals realize their potential.
When someone is ready to live on his or her own, we provide case management services to help that individual navigate the complex requirements necessary for someone who was previously homeless to secure housing.
Last year, through working with our community partners, we were able to help 153 previously homeless individuals secure housing.
In addition, as part of our commitment to end homelessness, The Mission now owns five houses and one apartment building, which can provide a home for 43 individuals.
Last year, we oversaw the reconstruction of a historic home on South Clinton Avenue in Trenton, which had long been ransacked, boarded-up, and abandoned. Now renovated to its previous state, this elegant house is the home of five formerly homeless women. Our commitment came from seeing the number of homeless women seeking food and shelter at The Mission increase by 25 percent in the past eight years. "Many of these women are victims of domestic violence," said Barrett Young, The Mission's Chief Operating Officer. "We knew we had to do something," he added. "That's how we always begin."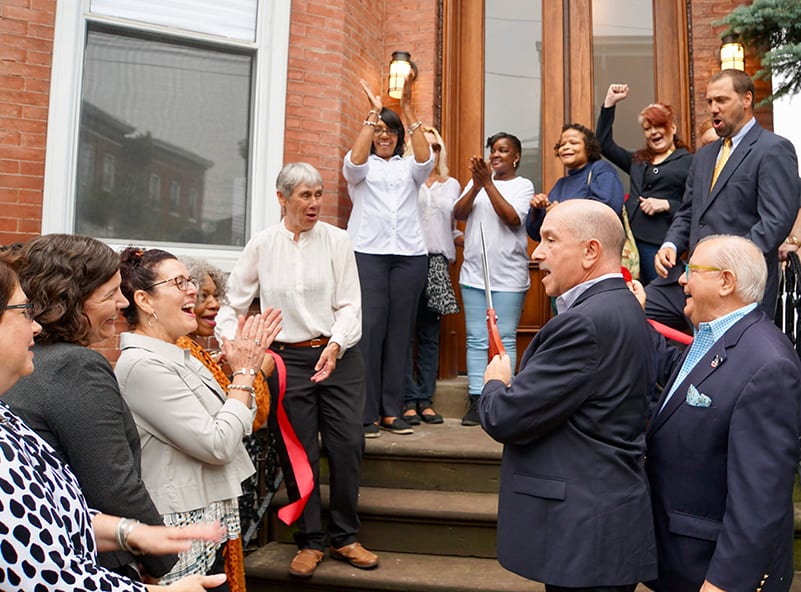 The ribbon being cut last year on The Mission's first permanent supportive house for five previously homeless women.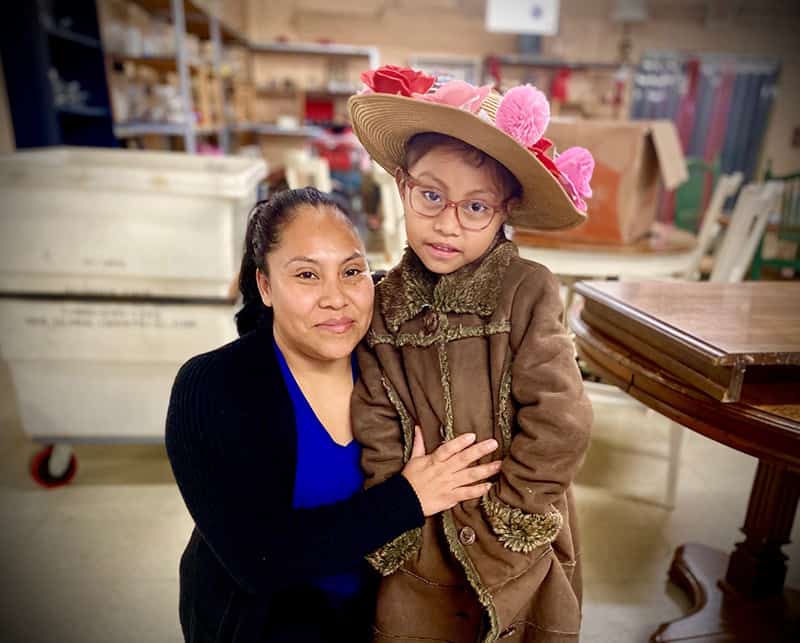 Hasly found a new hat last year at The Mission's Thrift Store while shopping with her mother Anjelica.
Our Thrift Store is a vibrant part of our community. Each and every one of our items have been donated to The Mission, so all of the money we raise goes directly to fund our programs – where we feed those who are hungry, house those who are homeless, and provide opportunities for all.
Part of the beauty of the store is that it works on so many levels. For those who donate, it provides a wonderful sense of giving. For those who shop here, it provides a very affordable way to find some really great values. And for the residents of The Mission, it provides diversified job training.
Ada, who shops here frequently, said, "I love this place. I used to live right down the street, so I've been shopping here forever. Before I retired from my State job, I'd get all kind of beautiful things here. I was the best dressed woman in my department!"
The Thrift Store is open Monday through Friday from 9:00 am until 2:00 pm. Masks are required by everyone. Children are welcome.
Interested in donating? We gratefully accept donations of clothing. We also make it convenient to donate clothing at our drop-off-boxes.
Another way you can support The Mission is by hosting a clothing drive through your company, business, school, faith-based organization, or civic group. For more information, call Niki Graham at (609) 695-1436 ext. 129.
We have never before felt the need to open a food pantry. Since the onslaught of the pandemic, however, that need rose unmistakably from our community.
The pandemic has made it clear that those we serve are experiencing new levels of turmoil and suffering. When we reopened The Mission's Thrift Store in the spring, we began seeing many new people who needed clothes and also confided that they were struggling to put food on their tables.
Too many people in our community are going to bed hungry. So, we knew we had to do something.
That something became the New Food Pantry, located inside The Mission's Thrift Store.
The Food Pantry is open Monday, Wednesday, and Friday from 9:00 am until 2:00 pm. Masks are required by everyone. Children are welcome.
Prepared meals that just need to be reheated, along with chicken, ground been, fish, canned goods, and fresh fruit and vegetables are being supplied by Mercer Street Friends Center's Food Bank, the Trenton Area Soup Kitchen, and local restaurants, including Pat's Original Diner, Blooming Grove Inn, and Leonardo's II.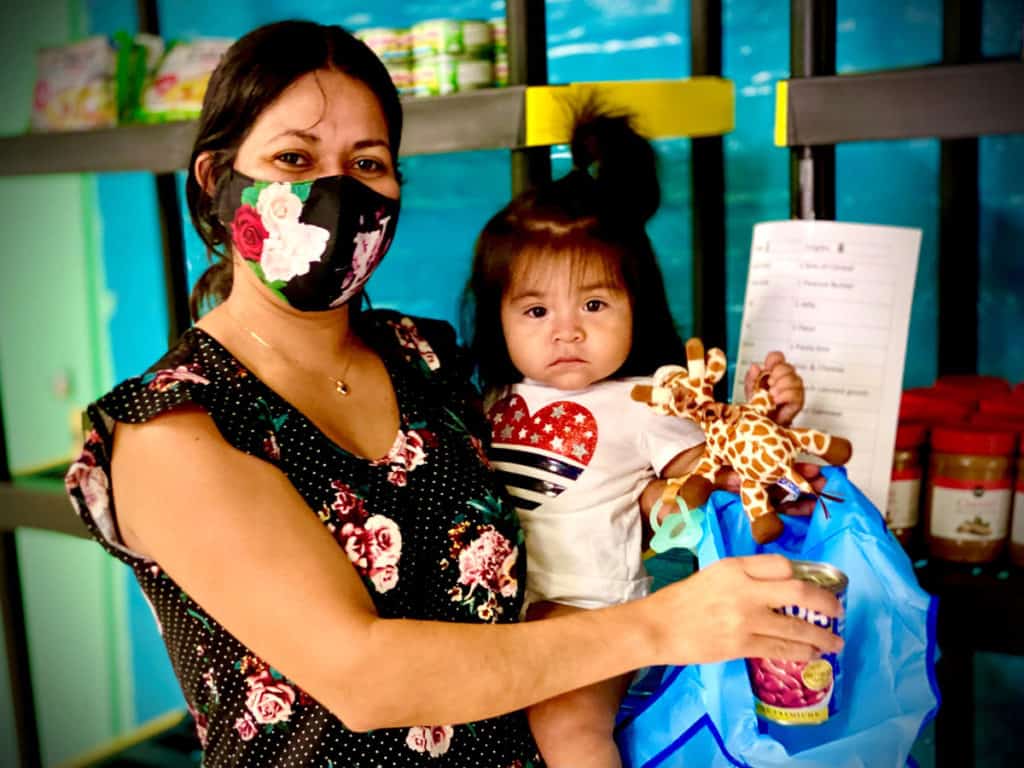 Holding her daughter Linda, Leslee said, "This is so very helpful. Muchas gracias!"