The Mission's Behavioral Health Center is a state licensed addictions treatment facility, providing long-term, halfway house and ambulatory services.
Our comprehensive approach helps individuals recognize and overcome challenges they have been facing – so they can see new possibilities for themselves.
Licensed and credentialed counselors provide a full array of services, including individual and group counseling, medical evaluation and referral, as well as educational and vocational opportunities.
Our long-term program accepts individuals from Recovery Court, the Parole Board, as well as "walk-in" clients from The Shelter and other agencies.
We also have a Halfway House for individuals seeking treatment, while focusing on gaining life skills and employment.
In addition, we offer Outpatient and Intensive Outpatient counseling, providing individuals with ongoing treatment, during convenient evening hours.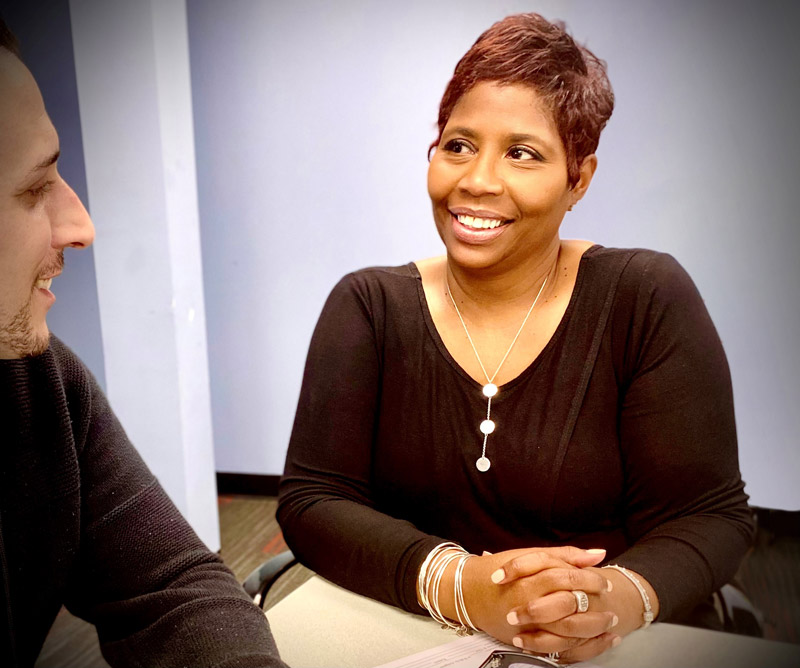 Jamesena Nairn, Manager of Engagement in The Mission's Behavioral Health Center, working with Christopher on being able to recognize his emotional triggers, overcome self-limiting beliefs, and see new possibilities for himself.
Learn More About Attending Our Recovery Program
If you are seeking the professional support you need to recover from substance use and co-occurring disorders, we can help – regardless of your financial circumstances.
With compassion, understanding and expertise, we offer an integrated care approach, including behavioral health counseling, healthcare, and educational and employment opportunities.
Our residential treatment program provides short-term and long-term options, including:
Individual and group sessions with certified counselors,

Access to medication-assisted treatment,
Access to mental health services,
12 Step and alternative meetings,
Onsite nursing department with access to physicians,
Education on preventing relapse, social and coping skills and anger management,
Support services from certified peer recovery specialists, and
Educational opportunities and employment development, including preparation for employment and assistance in applying for and obtaining a job. 
schedule an appointment by calling (609) 695-1436 (then press 1) or by filling out the online form below.
Join our Behavioral Health Counseling team
"Our goal is to become the best behavioral health care provider in New Jersey."
Engaged in best practices, our behavioral health and addiction counselors work closely with residents in group and individual sessions, assisting them to lay a foundation for recovery and see new possibilities in themselves. 
OUR COUNSELORS help individuals:
create a new understanding of what is possible,

recognize their emotional triggers and overcome self-limiting beliefs,
connect with others who have succeeded in facing similar challenges,
gain access to educational and vocational opportunities, and
leave with a clear therapeutic and career plan for their success.
OUR PHILOSOPHY starts with this unwavering belief: 
"Look into the eyes of someone who is struggling. See their pain. And we also encourage you to see their potential."
OUR APPROACH is evidence-based and tailored to each individual we serve, recognizing that substance use disorders, co-occurring mental health concerns, and medical issues ore often interconnected. This integrated approach allows our professionals to provide a continuity of care, with positive, long-term results.
OUR TEAM features depth and commitment, gaining strength and purpose from each other in a culture of diversity, equity and inclusion. We collaborate to empower our residents to overcome daunting challenges and help them create their own path to succeed. 
As a member of our staff, you will add your compassion, commitment and expertise to our team. In return, you can take full advantage of opportunities to enhance your skills and develop your talents, including training that leads to certification and licensing. Teamwork and flexibility are central to our commitment to your professional growth and development.
Our counselors are licensed and credentialed, providing a full array of diagnoses, observation, consultation, treatment, intervention and rehabilitation services. In individual and group sessions, our counselors provide treatment in long-term, halfway house and ambulatory settings.
Our case managers also collaborate and coordinate with an array of like-minded partners in our community, including (but not limited to) Catholic Charities for outpatient counseling and group therapy, Henry J. Austin Health Center for medication assisted treatment; Iron Recovery and Wellness Center for medication assisted treatment, mental health appointments and intensive outpatient services; the New Jersey Division of Vocational Rehabilitation Services for employment opportunities; and the Trenton Area Soup Kitchen for GED prep.
And our recovery aides and peer recovery specialists bring lived experience with a deep-seated commitment, as they are important role models for those who are earlier in their road to recovery – and a daily example that success is possible. 
OUR RESIDENTIAL TREATMENT PROGRAM can be a demanding and fulfilling place where you can make a real difference. Most of our residents have been previously incarcerated, having been referred from Parole and Recovery Court – so the challenges you will face are many and the rewards can be transformational. 
Success happens in many way – sometimes after many failed attempts. Occasionally, success occurs with a step backwards, followed by a few wavering steps forward on a long journey. And every so often, someone we have served comes back to inspire others as a recovery aide or a peer recovery specialist – or lets us know that they are pursuing a passion that they never previously thought possible.
As one of our co-occurring counselors recently said, "That is why we are here. Hoping to play a part in someone overcoming daunting challenges and succeeding. That is what keeps us going."
WE OFFER competitive salaries, with a comprehensive benefits program including medical insurance, and a generous 401(K) employer match.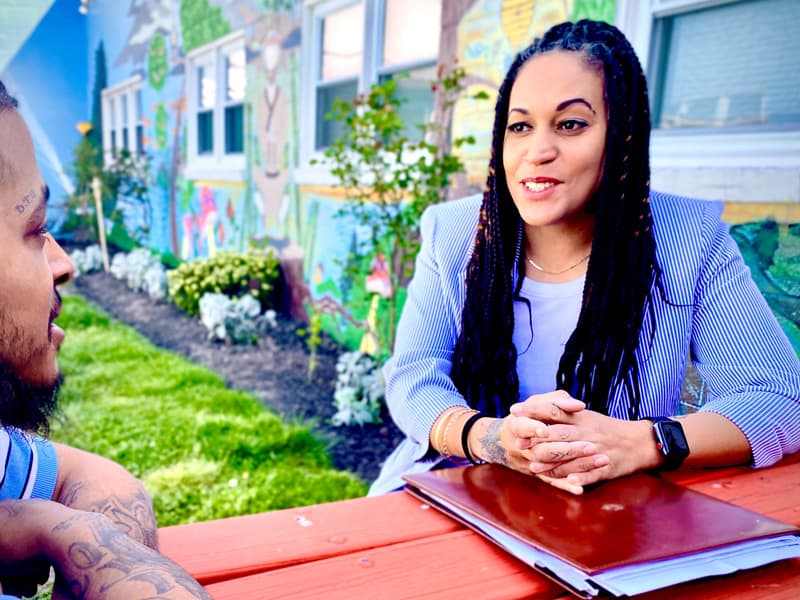 Vanessa Santana, Coordinator of Engagement in The Mission's Behavioral Health Center, working with Heriberto on how he is going to avoid certain people, places and things when he goes back home.
Learn more about our Behavioral Health Center career opportunities. Contact Kristen Edwards, Manager of Human Resources: kristene@rmtrenton.org